We have affiliated with a Sleep Disorder Testing Center that the American Academy of Sleep Medicine accredits. Dr. Binder will facilitate At Home or Overnight Lab Sleep Study Testing and follow-ups.
Insurance and Medicare patients are welcome.
Home Sleep Study
Sleep Apnea and snoring problems are recorded while you sleep. Patients can wear a simple monitor on their finger while they sleep. The monitor collects and transmits its findings to a smartphone application that uploads your data for analysis; if you don't use a smartphone, we provide a small device that records your sleep and snoring patterns and functions like your phone application does.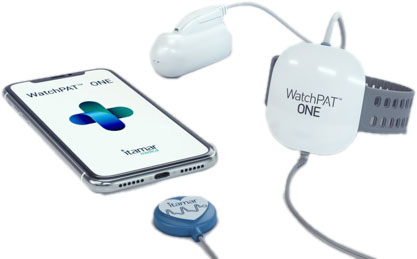 This at-home test helps you. Do you have any of the following:
Poor sleeping, frequent awakenings, insomnia?
Snoring that's affecting your bed partner,
Night sweats?
Acid reflux?
Teeth Grinding?
Morning headache?
While you sleep, it measures:
heart rate, oximetry,
actigraphy,
body position,
snoring,
and chest motion.
Overnight Sleep Study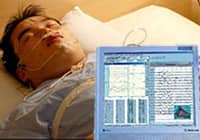 Some patients have complex medical conditions that require a more advanced study. An overnight sleep study called a Polysomnogram (PSG) is available for these patients.
State of the Art Sleep - Overnight Lab Testing Facility
Polysomnography (sleep study) is performed to meet your schedule and sleep rhythm with overnight and daytime testing in a comfortable and relaxing environment. The day room is very comfortable and has chairs, a table, a desk, a refrigerator, a microwave, and a computer with Internet access.
We measure:
Breathing measurement
Continuous electrocardiogram
Continuous oximetry
CPAP titration
EEG (electroencephalography) "brainwaves."
EMG (electromyography) "muscle tone."
Eye movements measurement
Movement sensors and recording for the measurement of snoring, nasal breathing, oral breathing, and effort of breathing
We provide diagnostic sleep testing:
Sleep Apnea
CPAP Management
Snoring
Insomnia
Excessive daytime sleepiness
Sleep in Menopause
Restless Leg Syndrome
Narcolepsy
Parasomnias
Sleep in Heart and Lung Disease
Call for your appointment today! Choose Dental Sleep Apnea New York.