When are dental crowns or caps the right choice?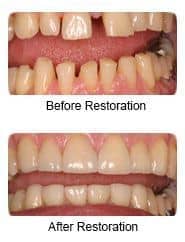 Dental crowns or "caps" offer a solution for teeth that are too badly damaged to be corrected with tooth-colored fillings or veneers. Crowns can restore both the strength and beauty to natural teeth.
Types of dental crowns
There are generally three types of crowns: those made of gold, all-ceramic caps and ceramic-veneered gold crowns. Gold and metal-ceramic crowns are extremely durable and are normally used on molars, where the forces from chewing and grinding are most prevalent. Ceramic crowns are used primarily for front teeth, since they can best resemble the natural tooth color and are more pleasing to the eye.
Types of porcelain used with dental crowns
There are basically two types of porcelain used in dental caps and crowns: feldspathic and pressed ceramic porcelains. The feldspathic type is the original material that has been around for 20 years.
Pressed ceramic is created from a single ingot. The ingot is melted and pressed in one piece to create the desired shape of the cap or crown. The stains and opaques are applied only to the surface of the porcelain to give a natural look for your new smile.
Resin and porcelain: crowns and onlays
The new reinforced resin or bonded all-porcelain cap has the nicest appearance in cosmetic dentistry. This cap can be made from pure ceramic or a new reinforced composite resin. It is almost indistinguishable from natural teeth. The new bonding technology involved provides an exceptional bond to your tooth. It is metal-free, and thus satisfies the needs of patients with metal sensitivities. When correcting your back teeth with bonding, the cosmetic dentist will perform a tooth-colored onlay. This type of procedure is used to correct only the parts of your tooth that are in need. This procedure is metal-free.
Crowns made of gold
Gold crowns are used when appearance is not a priority to you. The gold is extremely workable, making gold crowns a more precise fit than any other type. While there exists a slight possibility of chipping with porcelain crowns, gold crowns never chip.
Porcelain and metal crowns
For a natural appearance, porcelain fused to metal crowns are the answer for you. However, they have a metal substructure and require are opaque below the porcelain, which can make the translucency of natural teeth difficult to match. Sometimes a darker line will be visible at the edge of the crown, near to your gum, when your gum recedes with age.
The Manhattan Dentist, Dr. Binder will help you decide which system is the most appropriate to achieve your goals.
Call the Manhattan Dentist today at (212) 867-2730 and make an appointment for a dental crowns and caps consultation!