Welcome to The Manhattan Dentist's midtown NYC dental practice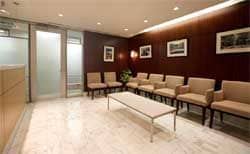 The dental office of Dr. David Binder provides the very best full-service dental care.
Whether you need to have your teeth cleaned, repaired or replaced, you have come to the right dentist.
While our primary goal is to create and maintain the dental health of our patients, we do not overlook the patient's desire to create the perfect smile.
We provide cosmetic and restorative dental work, dental implants, and Sleep Apnea treatment.
Our approach to your dental care
We promise a thoughtful and conservative approach to your dental care. You will come to appreciate that your care is based on your individual needs. We want you to completely understand your dental needs and the options that you have to address those needs. Our approach is to focus on tooth retention. We will teach you to be the first line of defense against tooth decay and periodontal disease. Applied properly, our methods of preventive care allow you a great opportunity for long-term dental health.
Tour our practice
Calm, clean and well organized — these are the words our patients use to describe our dental office. Dr. Binder's office is designed with two purposes in mind: to create a warm and comfortable environment for our patients and to house our state-of-the-art dental equipment.
Communicating what can be done for patients and your understanding of your options is important. Dr. Binder always takes the time to discuss what can and cannot be done for each individual patient. You can view before-and-after photos of actual patients of Dr. Binder who have had the same or similar work performed.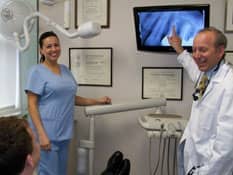 Visualization is the best form of communication. Intraoral cameras in all treatment rooms help you, the patient, view your teeth with the dentist during examination.
Our TLC™ large-screen overhead TV monitors not only allow you to view pictorial images and X-rays of your teeth, you can also watch DVDs of the latest movies. It makes the visit seem shorter.
Call the Manhattan Dentist today at (212) 867-2730 and make an appointment for a dental consultation!