The Manhattan Dentist, Dr. Binder and his team provide both routine and specialized oral care in a friendly and comfortable environment.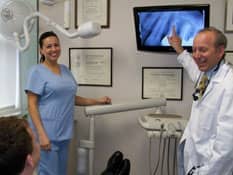 Family dentistry and general dentistry are primarily preventive dentistry practices. They are considered to be the first level of defense against dental abnormalities.
The American Dental Association (ADA) recommends that you visit your family dentist for a checkup a minimum of two times each year. Such checkups provide routine or deep cleanings to eliminate plaque buildup and prevent tooth decay. If necessary, we provide fluoride treatments to help coat the teeth, a procedure also important in the prevention of tooth decay. Preventive dental checkups can help with the detection of oral health problems long before the onset of symptoms.
On some visits, X-rays are taken to help detect cavities and other tooth and jaw problems. If a cavity is detected during a checkup, we can provide treatment with a dental filling before it develops into a more serious problem that may require a crown, dental implant, root canal, or other restorative procedure.
We also provide state of the art services in tooth whitening for a beautiful smile and smile makeovers with all-ceramic crowns and porcelain veneers for our patients who seek the ultimate aesthetics in their smile.
Call the Manhattan Dentist today at (212) 867-2730 for your consultation about Family Dentistry services!