Dental exam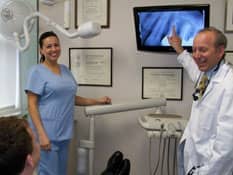 A good dental examination ascertains the patient's goals. If a patient is looking for help with a specific problem, the dentist should address it first.
When a patient needs a general checkup, the dentist should examine all areas of the mouth, and take appropriate X-rays when necessary to get the complete picture of the patient's oral health. A good dentist should make a point of finding out about the patient's esthetic needs: it's important to feel good about the way you look! The dentist should examine all hard and soft tissues (both the teeth and the gums), check for any orthodontic needs, and look for any manifestations of systemic disease.
Oral cancer screenings
During a dental exam, the doctor will check your neck and oral tissues for lumps, red or white patches or recurring sore areas.
Screening for early changes in the oral tissue can help detect cancer at a stage when it can be more successfully treated. Smoking, especially combined with heavy alcohol consumption (30 drinks a week or more), is a primary risk factor for oral cancer. This combination is estimated to be the most likely trigger in about 75 percent of oral cancers diagnosed in this country.
Professional cleaning
Throughout our years of dental practice, we have found without exception that good oral hygiene is the cornerstone of all good dental treatment. We put the highest emphasis on helping our patients achieve consistent oral health with periodic cleanings.
Different patients have different needs. One patient may need a simple polishing, while another needs scaling and root planing under an anesthetic. At the dental office of Dr. Binder, each patient's teeth cleaning needs are addressed individually.
Diagnostics and X-rays
At our dental office, we use digital technology to take our X-rays. We have the capability to take both simple intraoral X-rays, which are taken inside the mouth, and extra-oral X-rays, including panoramic or cephalometric images. Panoramic X-rays enable us to diagnose a much wider variety of dental pathology than intraoral X-rays can. For some conditions, this is the only way to see what is really happening.
For patients who require dental implants, Dr. Binder will often refer the patient for a CAT scan of the jaw. Dr. Binder then uses computer-guided implantology software to view the CAT scan and plan the implant treatment in advance. Patients have the opportunity to review the images with The Manhattan Dentist, Dr. Binder so that they will get a precise idea of how the implant will fit in their mouth.
Call the Manhattan Dentist today at (212) 867-2730 and make an appointment for a dental consultation!