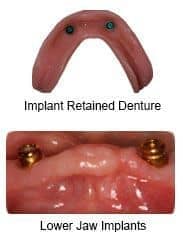 An implant-retained denture is a denture held in place by using two or more dental implants. These dentures may be removed by the patient or they may be fixed. Biomet micromini implants are used to provide patients a small and unobtrusive implant.
Dental implants can extend function
Chewing ability with conventional complete dentures is only about 15% as efficient as with natural teeth. Implant retained dentures allow a patient to function normally.
Prior to dental implants, a patient who had lost all of their teeth was limited to wearing complete dentures. The stability and retention of conventional dentures is unpredictable. Fit and function are less efficient with age and degeneration of the jaw.
With the use of as few as two implants dentist are now able to construct a removable denture which snaps into place and provides excellent retention and stability.
Implant retained denture process
A consultation allow the doctors to determine the best course of treatment for the patient. Once decided, dental impressions are made and the chosen number ofare placed during the surgical dental implants process. After the dental implants are healed and solidly in place, the fixed or removable dentures are made and placed. Follow up visits are necessary to clean the implants just like one would clean natural teeth and to ensure that the dentures are performing as planned. Implant retained dentures will provide years of excellent service.
Call the Manhattan dentist to learn more about implant retained dentures.