When are porcelain crowns fused to gold the best choice?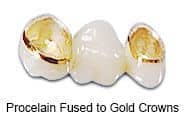 When the restoration of teeth require a crown in an area of high biting force, a ceramic porcelain crown strengthened with a metal, typically a gold alloy, may be called for. These restorations have been improved over the forty years since their introduction to dentistry and can rival the cosmetics of an all-ceramic crown when done properly.
Porcelain fused to gold crowns looks like natural teeth and are stronger than all-ceramic dental crowns. This system can be matched to your natural teeth to provide an attractive appearance. While not as strong as gold dental crowns and restorations, they are a good choice for front or back teeth.
We offer several choices in caps and crowns.
The Manhattan Dentist, Dr. Binder will help you decide if a porcelain fused to gold crown is the most appropriate system to achieve the strongest and the most natural-looking restoration for your smile.
Call the Manhattan Dentist today at (212) 867-2730 and make an appointment for a Porcelain Fused to Gold Crowns dental consultation!