Dental Implants, Restorations, and Sleep Apnea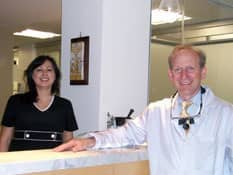 Manhattan Dentist, David S. Binder DDS provides full services in general and cosmetic dentistry. Focused on providing high-quality work with a conservative approach, Dr. Binder is distinguished in the field of dental implants and in dental sleep apnea treatments.
The Manhattan Dentist is located in NYC, Manhattan, near Rockefeller Center and Times Square, in the Fred F. French Building, on 5th Avenue and E. 45th St.
A conservative dentist
Your dental health and smile are very important to your well being. You want a dentist who is experienced and current with the latest technology; a dentist who emphasizes preservation of your teeth and offers you conservative therapies whenever possible. The Manhattan Dentist and his staff take pride in providing you with their best dental work and services.
A dentist focused on your needs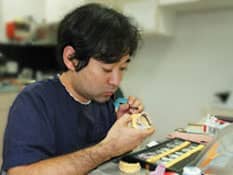 Because color, shape, and alignment make the difference in the perfect match for porcelain restorations, the Manhattan Dentist has an on site dental lab technician. Our lab technician is on-site, as needed, to gather requirements. We care, not only about the aesthetic values, but more importantly, about your safety. We are confident in the materials, quality, and the workmanship of our restorations.
The Manhattan Dentist is dedicated to achieving excellence; we strive to meet our patients' needs through education, advanced technology and a caring environment. We offer the most modern techniques in dental implants, ceramic crowns, partial dental bridges, cemented dental bridges, and porcelain laminate veneers.
The Manhattan Dentist teaches dental surgery and prosthetics (dental implants and crowns) to dentists at New York University College of Dentistry, as well as lecturing on the treatment of snoring and on sleep medicine to patients, sleep physicians and dentists. He also lectures to sleep-medicine patients, sleep physicians, and to dentists about the treatment of snoring.
See why so many people choose the Manhattan Dentist for exceptional service and treatment in dental restorations and dental sleep apnea. Explore this site for dental information to help you with your decisions, and call us for a consultation.